Oh yeah, I love Instagram :)
Since we are in the middle of Wimbledon fever, I thought of celebrating the season of strawberries and cream with a luscious mousse like chilled strawberry cheesecake. No need to clean the oven - yay! Another great thing about this cake is that you can serve it with a side of more strawberries and cream. Hey, a wise woman once told me that watching tennis burns more calories than watching the Kardashians. I will believe anything at this stage!
I made the biscuit base with Digestives as they were cheaper, but if you can get Oreos - go for it, the colour contrast works for a better looking cake I think. You can also really unleash your creativity decorating this cake. Just be inspired by the strawberries. Make it as simple or as elaborate as you wish. I can't wait to see your photos if you make this :)
Since it is summer and there are the occasional sunny day, I am thinking of making this again for a potential BBQ. I might make this with a different type of fruit. What do you think?
Right, enough chatter, here is the recipe. Enjoy! Oh yes...don't forget to watch the tennis as well ;)
Recipe for No Bake Strawberry Cheesecake
Serves 8 / Prep 45 minutes / To be chilled overnight
You will need an 8" Springform Baking Tin
For the Biscuit Base
350gm Digestives / Oreos
140gm Butter (melted)
Approx 10 Strawberries (halved - for decorating)
Filling
250gm Cream Cheese
130gm Icing Sugar
300gm Double Cream (whipped)
1 sachet Gelatine Powder (dissolved in approx 3 Tbsp water)
1 Tbsp Lemon Juice
200ml Strawberry Purée (consisting of 10 fresh strawberries blended with 2 Tbsp Sugar and a little bit of water and lemon juice)
[Note: Any extra purée can be used for decorating the top of the cake]
Method
1. Line your baking tin with parchment paper.
2. Crush the biscuits into fine crumbs. I use a food processor to blitz it but you can use a rolling pin to crush it if you do not have a processor.
Crushed Biscuits - Smells so good, I might have pinched some..
3. Melt butter in a pan and mix crushed biscuits with the melted butter.
Crushed Biscuits and Butter mixture - hand me a spoon!
4. Press the biscuit mixture firmly into the base of your baking tin. It is advisable to use something with a flat base. For lack of imagination I used the lid of my pasta jar.
Biscuit Base done!
5.
Arrange the halved strawberries around the biscuit base.
Arrange like so
6. Whisk the Cream Cheese and Icing Sugar until combined. Add in the Gelatine and continue whisking. Then add in the Strawberry Purée
and Lemon Juice. Set aside.
7. Whisk the Double Cream until it forms soft peaks. Fold the whipped cream into the cream cheese mixture.
8. Pour the mixture into your prepared baking tin. Refrigerate overnight or until the cake is properly firm.
Try to get strawberries of similar size but as you must embrace the beauty of nature, this is not always possible. You can trim them to size. I had rather large strawberries and didn't want to waste, hence, the peek-a-boo tops.
9. Gently remove the cake from the tin and slide onto a cake board/plate and dig in!
Ooh La La
I am submitting the recipe for this cake to Tea Time Treats, a food blogging challenge which is a monthly tea party challenge co-hosted by Karen from Lavender and Lovage and Kate from What Kate Baked.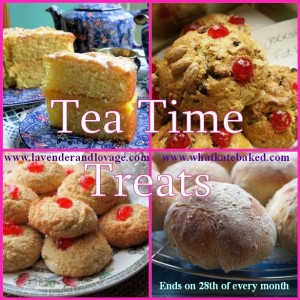 For July, the challenge is being hosted by Karen and the theme is Fresh Fruits. As the main component of this cake is fresh strawberries, I thought it would be perfect for this challenge :)